Envisioning St. John's
North-Central Coast at the
Turn of the Nineteenth Century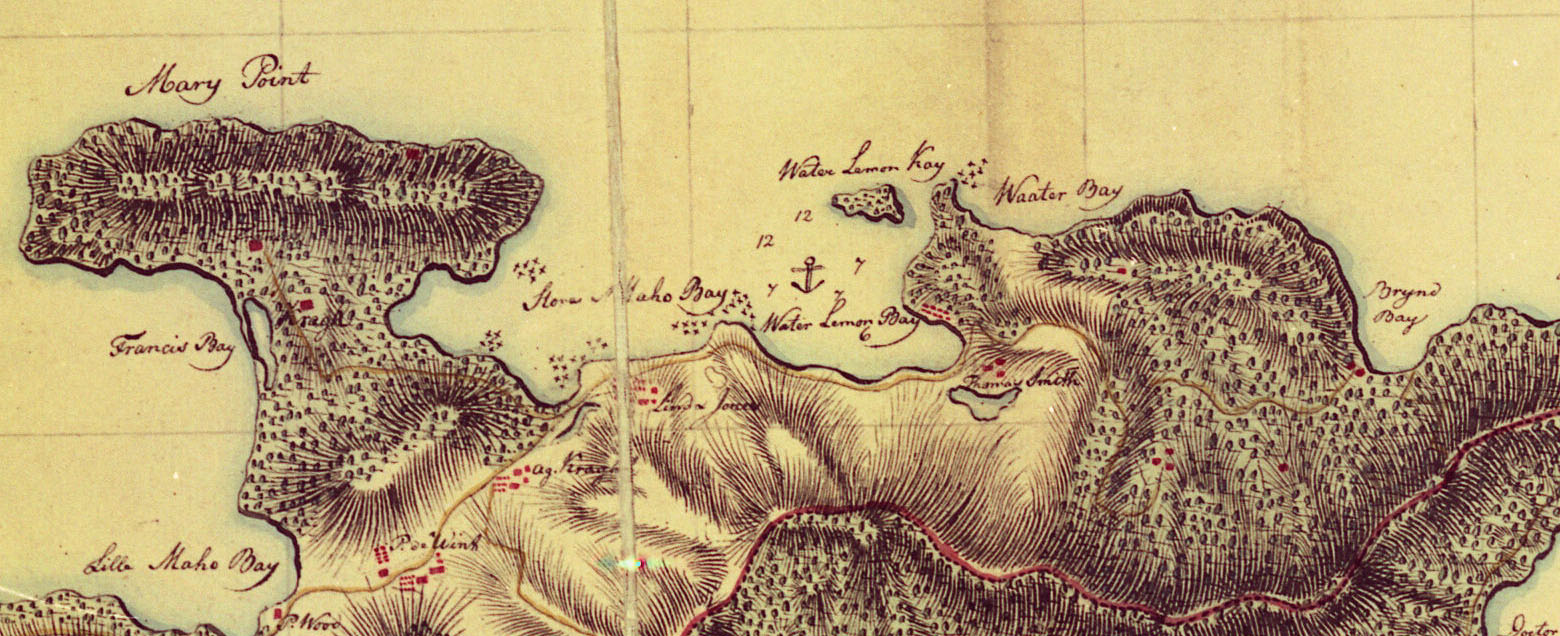 Detail of the North-Central coast of St. John from a map by Peter L. Oxholm, 1780 (Rigsarkivet, Denmark)
While the roughly three-mile stretch of St. John's North Shore between Mary's Point and Leiven Marche's Bay appears remote and unspoiled today, back at the turn of the nineteenth century, it was the most active and densely-populated section of the island's coastline — replete with three grand estate houses, five sprawling laborers' villages, four sugar factories, an abattoir, workshops, barns, stables, warehouses, boat sheds, animal pens, lime kilns, turtle corrals, road networks, field systems, pastures, bridges, and even hospitals, one of which, at Waterlemon Bay, was described in 1805 as being "the largest and most convenient and comfortable sick [house] in all of the islands."

Despite this area's high state of development by the outset of the 1800s, organized agro-industrial development appears to have initially been slow to occur. The first Danish-colonial land grants along the north-central coast of St. John were not taken up until 1722, four years after formal Danish occupation of the island. Two French Huguenot refugees, Isaac Constantin and Jan Loisan, were the first settlers to establish themselves in this area, having been granted neighboring properties that would later become components of estates Annaberg and Leinster Bay. Another Frenchman, Pier Castan, was granted a plantation in the area of Brown's Bay in 1725. In fact, so many French Huguenots settled in the northeastern section of St. John that early tax records refer to this portion of the island as the "French Quarter."
The high concentration of colonists of French background in this area may have been due to the unwillingness of Danish and Dutch settlers, who made up the majority of early St. John land grantees, to establish themselves so close to the British on Tortola. Ever since the formal occupation of St. John by the Danes in 1718 tensions had run high, with the English constantly threatening to forcibly dislodge the Danish-sanctioned settlers – just as British forces had done to Dutch colonists on Tortola forty-some years earlier.
By 1728, the number of plantation properties established along the coastal area between Mary's Point and Levin Marche's Bay had reach a peak, with eight properties engaged in the cultivation of cotton and/or sugar. Tax records indicate that by 1755, this number had dropped to six, as prosperous planters vied to acquire neighboring properties in efforts to increase their yield, and therefore, profitability. This consolidation of holdings was to be an ongoing pattern of development throughout the Danish-colonial period. Along the north-central coast of St. John consolidation of properties reached a pinnacle in 1808, when a single individual, James Murphy, effectively gained control over all of the plantations between Francis Bay in the West, to Brown's Bay in the East, and inland, to the boundaries of Estate Carolina in the Coral Bay Quarter.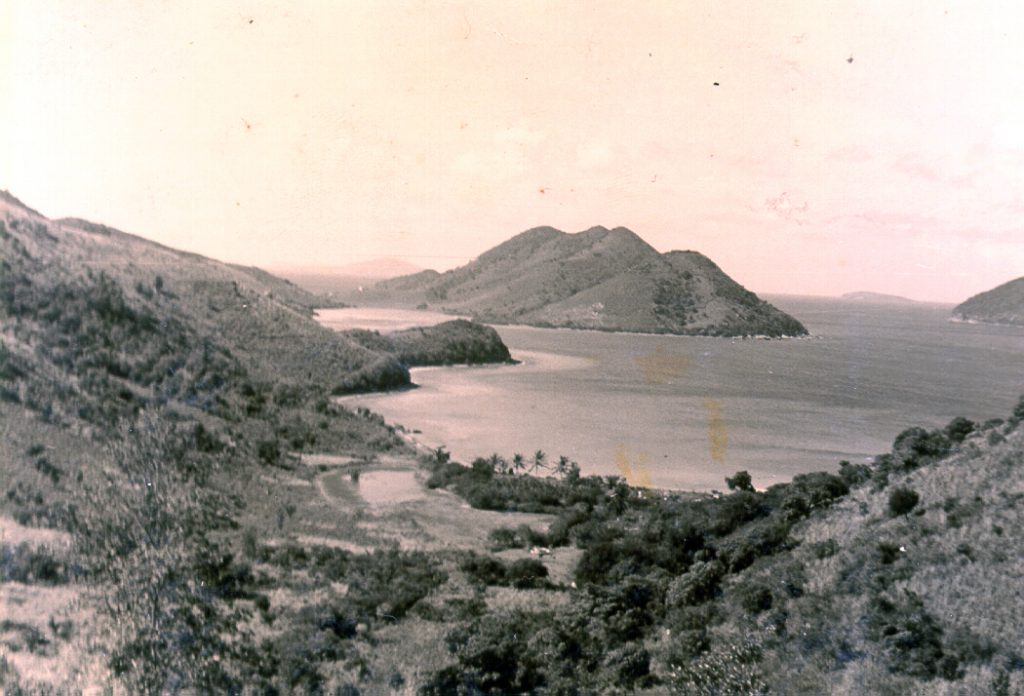 Mary's Point and Waterlemon Bay c.1940 (Photo by George H.H. Knight)
James E. Murphy, a wealthy St. Thomas-based merchant, slave trader, and sugar planter, acquired the Waterlemon Bay plantation in 1796. It is believed that it was Murphy who renamed the estate "Leinster Bay," presumably in honor of the Irish Provence of his ancestry. Within the year Murphy went on to acquire the neighboring Annaberg and Mary's Point estates, along with a portion of the former deWintsberg property (also known as Betty's Hope) that joined the two parcels.
Following these acquisitions, construction began on a massive state-of-the-art sugar factory on the Annaberg property, while a stately and well-fortified estate house began to take shape on a prominent hilltop overlooking Waterlemon Bay. Along the half-mile shoreline that connected these two ambitious projects, Murphy developed a veritable port city, flanked on either side by sprawling laborers' villages, with a total of 126 houses occupied by over 400 enslaved workers. Along the beach at the head of the bay, warehouses, support buildings, and secondary industries soon lined the waterfront: a coopers' shop, blacksmiths' shop, woodshop, lime kiln, boathouse, turtle corral, and a hospital. In Waterlemon Bay's secure harbor, Murphy's swift, tall-rigged "Westindiamen" were frequent visitors, while the estate's five boats plied the local waters engaged as lighters, fishing, or carrying small freight and passengers. Immediately behind the beach, the former Waterlemon Bay sugar factory was refitted and upgraded, doubling its rum production capabilities. In the deep inland valley beyond the beach grazed six cows, one bull, two calves, six horses, thirty-five mules, and thirty-two sheep. The graceful hillsides of St. John, in every direction and as far as the eyes could see, were clear-cut and planted in sugarcane or guinea grass for grazing.
In 1803, Murphy once again set out to expand his landholdings with the acquisition of the Munsburry plantation, which lay along Annaberg's southern boundary; and, in 1807, he purchased the Brown's Bay estate on the far eastern boundary of Leinster Bay — thereby amassing a total of 1,245 contiguous acres, of which 494 were planted in sugar cane. It was the largest amount of sugar land ever controlled by a single individual in the history of St. John to that date.
On November 17, 1808, at the age of fivty-one, James E. Murphy died at his Leinster Bay estate house and was buried on a prominent hilltop overlooking his vast domain. At the time of his death, Murphy had not only become the single largest sugar producer in the history of St. John, but he also controlled the island's largest labor force, 591 enslaved workers, of whom more than 60 were skilled crafts-persons.
After James Murphy's death, his properties were appraised separately and either sold off to service the accounts of his creditors, or apportioned amongst his heirs. The Leinster Bay plantation was given over to Murphy's son, Edward C. Murphy, while Annaberg, along with Mary's Point and Betty's Hope, became the property of his daughter, Mary Murphy Sheen. After Mary M. Sheen and her husband Thomas died without issue in 1827, title to Annaberg reverted to the widow of Edward C. Murphy, Catharina Sheen Murphy, who had married for a second time to Hans H. Berg.
Long a respected civil servant, Hans H. Berg became Governor and Commandant of St. Thomas and St. John in 1853. He retained proprietorship of both Annaberg and Leinster Bay as guardian for his wife and stepson (James Murphy's grandson, Edward Falkner Murphy, son of Edward C. Murphy and Catharina Sheen) until his death in 1862. By that date, the production and profitability of the former James Murphy properties had been in steady decline for over half a century.